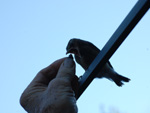 H
eron's Eye Communications' mission is to create strong community partnerships that foster a healthy environment, desirable quality of life and sustainable local economy.
We offer a community-minded, holistic approach to your overall business and marketing goals. We specialize in mission-driven messaging and marketing for conservation organizations, initiatives and causes.
We have helped to develop innovative outreach tools—such as the Shop Local Save Land website and printed guides—that deepen the connection between conservation work and economic development.