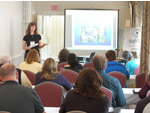 N
on-profits, social enterprises and small businesses do such good work. Often, however, limited staff and resources keep you from engaging with and sharing your stories with the people most affected by your accomplishments.
It's a common challenge, and Heron's Eye Communications has developed an interactive story development session to help you meet it.
Using your organization's mission as a guide, we can help you to articulate its origin, impact and vision. The session can be tailored to your field or industry. Let's talk.