As we welcome the promise of a new year, we couldn't pass up the opportunity to savor some of the sweetest moments of 2012—and we certainly couldn't be the only bloggers without a "Best Of" list.
So, we present the Heron's Eye 2012 Quintessential Quality of Life Quintet—our list of people, places and things that enriched the lives of all of us who live in the Upper Delaware Region.
It was a challenge to choose only five since there are many worthy contenders out there. We hope you'll share our list and add to our quintet.
5. Crone Age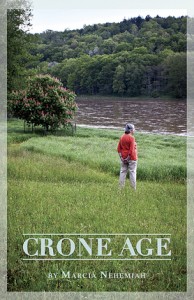 Author Marcia Nehemia's book based on interviews of eight inspiring octogenarians of the Upper Delaware region reveals the joys, challenges, riches and possibilities to be encountered through the aging process; and it reminds us how fortunate we are to share this place and time with such wise women (Marcia included!).
From the book's exquisite images captured by master portrait photographer John Rocklin, to the deeply probed questions and possibilities explored in each profile, Crone Age will invite you to examine your beliefs about aging, encourage reflection, and fill your heart with hope. Plus, it's an all-local effort: writing, photos, design and printing!
4. Manor Ink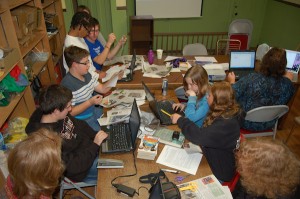 At the opposite end of the age spectrum are the talented young journalists of Manor Ink, a youth-led library-based newspaper that launched last spring under the leadership of veteran editor Barbara Gref, graphic artist Carolyn Bivins and librarian Peggy Johansen.
The Manor Ink gang is serious about community news, covering the people, events, and issues of Livingston Manor, NY—and tackling tough stories like the tragic Hoos Building fire that wiped out three Main Street businesses in one afternoon.
These kids are writing the first draft of local history as they carve a path to a promising future. We say, write on!
3. Mill Market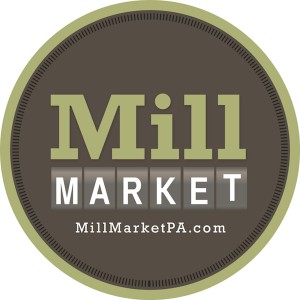 Locavore cravings were satisfied last summer when Mill Market opened in the Hawley Silk Mill, joining The Cooperage in Honesdale and the Sullivan County Farmers' Markets as a year-round source of fresh local food and goods. The more the merrier, and healthier!
Mill Market carries a variety of grocery staples sourced within 200 miles of Lake Wallenpaupack, plus a thoughtful selection of specialty items. As a local food hub, it supports small farms and independent purveyors while strengthening our community's economy.
2. Delaware Highlands Conservancy
There are many reasons to love the Delaware Highlands Conservancy—the land trust serving the Upper Delaware Region—but in 2012 two accomplishments stand out among all others for their positive impact on future generations.
Kicking off 2012, the Conservancy issued its Natural Gas Guidelines, articulating that "a pervasive industrial activity, such as drilling for natural gas in the Marcellus Shale formation, is not compatible with" its mission.

Then, in February, the Conservancy announced its merger with The Eagle Institute, the Upper Delaware's premier organization for the protection of eagles and stewardship of their habitat.
Makes good sense for these like-minded groups to pool resources and efforts geared toward clean water and healthy land for people and eagles.
Cheers to the Conservancy for its courage and vision!
1. Barbara Yeaman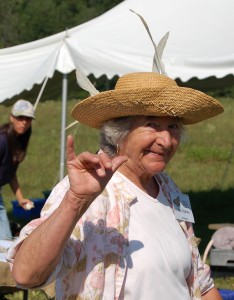 Without the number one woman in our Quintessential Quality of Life Quintet there would be no Delaware Highlands Conservancy. The land trust's founder, Barbara Yeaman, started the organization in 1994, while only 70 years young. Since then, her leadership has helped to protect more than 13,000 acres along the Upper Delaware—quite an achievement by any measure, but not her sole contribution to the conservation field, which is why Barbara was presented with the Lifetime Conservation Leadership Award from the Pennsylvania Land Trust Association in May.
Through her days defending the environment in Montgomery County, Maryland to her EPA career in Washington DC after earning a degree in Environmental Studies at the University of CA at Irvine, Barbara has long walked her talk when it comes to land protection.
In the early 1980s, upon settling into her home in Milanville, PA, she became active in the community, serving on the Citizens Advisory Committee that helped to establish the Upper Delaware Scenic and Recreational River under the auspices of the National Park Service during a time of intense controversy over private property rights.
In 1999 Barbara received the Volunteer of the Year Award from the Upper Delaware Council; in 2007 she was featured in the film Nature's Keepers examining Pike County, PA's conservation leaders; and in 2008 she received the Ralph W. Abele Conservation Heritage Award from the Pennsylvania Fish and Boat Commission—becoming the second woman ever to receive this prestigious recognition.
Now, at age 88, Barbara maintains a commitment to conservation that would exhaust someone half her age. Her leadership by example, good humor and gentle spirit are welcome guides as we navigate a new year.
[Photos © Heron's Eye Communications, excluding logos and Crone Age cover.]