Author and photographer Michael P. Gadomski has published Pennsylvania: A Portrait of the Keystone State, a beautiful coffee table book that is perfect for the PA enthusiasts on your gift list. The book is filled with vibrant full-color images of our state's considerable historic relevance and natural biodiversity, as well as its religious, ethnic, urban and cultural diversity.
Gadomski is a third-generation Pennsylvanian. His 25-year career as a state park ranger and naturalist have served him well in his publishing work as a freelance writer and photographer for nearly 40 years.
Just in time for the holidays, Gadomski will sign copies of Pennsylvania: A Portrait of the Keystone State on Saturday, December 10, from 11 am to 4 pm during Hawley Winterfest's Author Book Signing event at the Hawley Public Library, 103 Main Avenue.
As Gadomski points out, the Declaration of Independence, Articles of Confederation, and the United States Constitution were all debated and signed in Pennsylvania. The state's 46,055 square miles contain approximately 134 native tree species, 418 bird species, 100 fish species and 75 mammal species. Gadomski explores it all through his capable lens in a visual offering that is sure to satisfy those with an interest in the state that nearly 13 million people call home.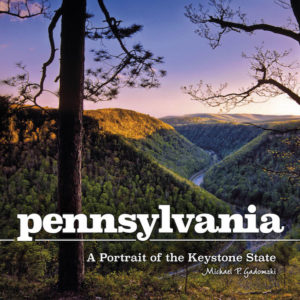 Pennsylvania Promise
In the introduction, Gadomski cites the state constitutional amendment, Article I, Section 27: "The people have a right to clean air, pure water, and to the preservation of the natural, scenic, historic, and esthetic values of the environment. Pennsylvania's public natural resources are the common property of all the people, including generations yet to come. As trustee of these resources, the Commonwealth shall conserve and maintain them for the benefit of all the people."
Much of this skilled photographer's work supports the very principles espoused in that amendment. Gadomski's other exceptional offerings include The Poconos: Pennsylvania's Mountain Treasure; Pittsburgh: A Renaissance City; Wild Pennsylvania: A Celebration of Our State's Natural Beauty; Philadelphia: Portrait of a City; Reserves of Strength: Pennsylvania's Natural Landscape; and The Catskills: A Photographic Portrait.
His photography has been published worldwide in magazines, calendars, greeting cards, interpretive displays and advertisements.
[Photos courtesy Michael P. Gadomski]