Since its launch in December 2013, Coal Cracker—a youth-led engagement journalism project spearheaded by Heron's Eye Communications co-founder Krista Gromalski—has published five issues covering hard-hitting topics like blight, bullying, beauty standards, and marriage equality.
Our reporters have interviewed author Trebbe Johnson about the coal region's wounded landscape, chatted with founder of the legendary Woodstock concert Michael Lang, and gone behind the scenes at the Little League Baseball World Series.
We've paid our young journalists about $500 (and lots of pizza) for published work completed on time through a program we call The Deadline Club.
None of this would have been possible without the support of the Community Reporting Alliance, our advertisers, subscribers, patrons and advisors; the meeting space provided by the Mahanoy City Public Library; and the graphic design assistance of Dorene Warner of W Design. We are truly grateful.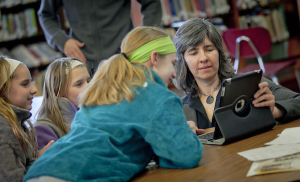 What's next? We plan to take some downtime during the holidays to enjoy family and friends. To kick off 2015, we'll get serious with some journalism training to boost our skills, then get back to the business of bringing our readers coverage that digs deeper into anthracite culture.
Keep up with Coal Cracker on Facebook, Twitter or Instagram.
[Header photo © Heron's Eye Communications inset photo © Chuck Zovko]