The sound of loons calling signals a greeting of Happy Holidays from our team at Heron's Eye Communications!
May beauty abound in the coming year!
Listen in, at the arrival of daybreak on Tick Island, Weller Pond, near Middle Saranac Lake, Adirondack Park, NY.
More Loons of Weller Pond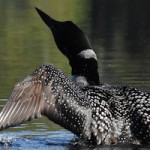 See more photos of Weller Pond, Tick Island by Sandy Long.
Weller pond is accessed from the South Creek boat access on Middle Saranac Lake, through a channel in the notheast corner of Hungry Bay.