How "water aware" are you? Have you ever given thought to how the choices we make in our everyday lives affect the quality of the water upon which our lives depend?
A new opportunity to learn more and to raise awareness of the many ways in which we can make a difference in protecting this precious resource is now available on the Clear Choices Clean Water website.
The educational website is filled with useful tools, links and tips. It focuses on the Delaware River, which flows for 330 miles through the states of New York, Pennsylvania, New Jersey and Delaware, providing drinking water to more than 15 million people and supporting a multitude of wildlife and plant species.
Clean Water Pledge
Participants are invited to take a pledge in support of one or more categories related to conservation initiatives, the impacts of lawn fertilizers, use of native plants in landscape and gardens, and opportunities for volunteerism.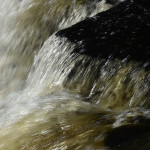 To take the pledge, simply go to the website and choose one of four options:
• Water Conservation
• Volunteer Service
• Native Plants
• Lawn Fertilizer
Once you select your area of interest, click on Make a Difference, TAKE A PLEDGE and follow the prompts from there.
Those who make a pledge help to populate a map showing the locations of people taking action to conserve and protect water. The resulting image shows the impact their collective actions are having on nearby rivers and streams.
All pledges made by June 26th will be entered into a raffle for an Old Town Heron 9′ kayak (courtesy of our friends at Alice's Wonderland)!
The initiative is the result of a collaboration between our regional land trust, the Delaware Highlands Conservancy, along with The Nature Conservancy, Wildlands Conservancy, Pocono Heritage Land Trust, the Brodhead Watershed Association, and Pocono Environmental Education Center.
Additional information about how protecting land preserves water quality is available through the Delaware Highlands Conservancy.
[Photos © Sandy Long]